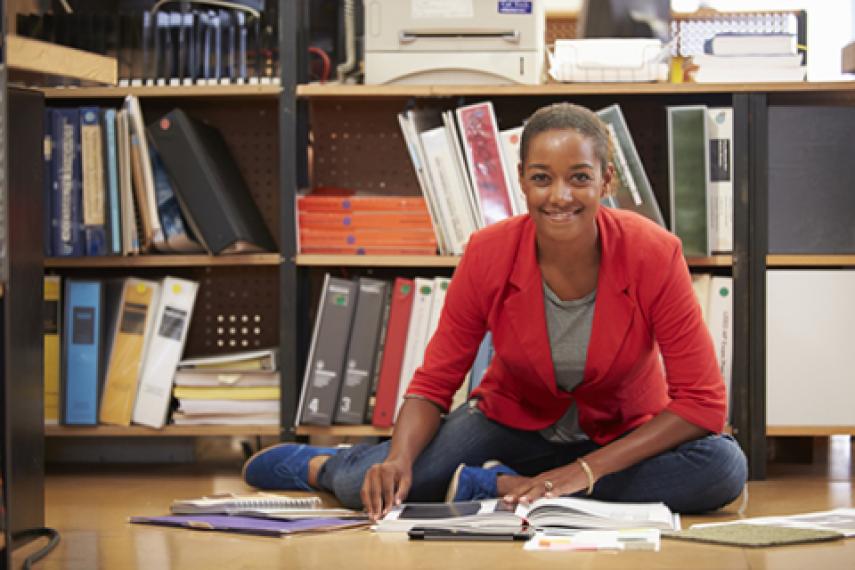 College is an exciting and rewarding time. However, along with the great experience comes a wave of new fees and expenses. One of those expenses is the costs of textbooks each semester – which can add up fast.
Wouldn't it be nice if you could save big money on your books? Fortunately, there are things you can do that will help you curb the costs of these educational necessities.
Overview on the Costs of Textbooks
Aside from tuition, room, and board, textbooks and supplies can be one of the larger expenses you will pay to attend college. According to the most recent survey data from College Board, the average full-time undergraduate will spend $1,240 on average for the 2020-2021 school year. Textbook pricing is also on the rise due to the coronavirus pandemic and the demand for digital books and books purchased online. Some savvy students will take advantage of substantial money-saving alternatives to buying new textbooks like those listed below.
Tips for Saving Money
Saving money is an important life skill and college is a great place to begin developing and refining this important ability. These are a few things you can do to cut your textbook costs in a meaningful way.
Consider Renting Textbooks
Many colleges and universities understand the overwhelming burden buying textbooks each semester can be and allow students the option to rent their textbooks instead of purchasing them new. That can save you a substantial amount of money when it comes to the costs of your books, but it also means you are responsible for taking good care of them. There are also some online services that offer this option too. Keep in mind, though, that renting is not always the cheapest option, so compare costs before signing on.
Skip the College Bookstore
University bookstores are in the business of making money. While it is true they will have every book you need – along with t-shirts, posters, banners, and university logo'd everything you might not need – they charge a premium for the convenience of the service they provide to students who often feel like a captive audience. Instead, skip the campus bookstore and look for off-campus solutions (or on-campus classified ads) instead.
Buy Used Textbooks
Used textbooks are often in great shape (some were probably never been opened by their previous owners) and can be substantially cheaper than pristine copies that are brand new. There are many places you can go to find used versions of popular college textbooks including websites, like Amazon, eBay, and AbeBooks. When comparing costs from one site to the next, pay attention to things like shipping costs and estimated shipping times. Books coming from China, for instance, might not arrive until the semester ends, while those that are eligible for Amazon Prime are guaranteed to arrive in two days and ship for free.
Consider Using Older Editions
Using older edition books is a bit of a risk, so it is wise to consult professors before making the decision. While most will applaud your decision to be frugal, some will have insights on which previous versions will better match the course requirements and will be able to advise you if core material is missing in older versions. Otherwise, you can save a significant amount of money by using older editions of textbooks.
Visit the Library
Some professors only require you to have a textbook to cover a specific aspect of the course, not the whole thing. Your college library might have several copies of the textbook on hand that you can use while at the library, or check out for an extended period. Since copies are probably limited, it would pay to be the 'early bird' at the library door once the required textbook list is made available for each class.
Opt for Electronic Versions of the Books
ETextbooks offer both a budget-friendly and environmentally-friendly solution for many students. You can carry all of the textbooks you need for the day on a single tablet device or your laptop computer. You can highlight and underline key passages, copy, and paste, and take notes on your electronic devices too. The price? As an example, Amazon offers the Eleventh Edition of Campbell Biology for $273 new. The cost to rent the eTextbook is $54.98 and the cost to buy it is $74.99 – both considerably less than buying the book new. The added benefit of eTextbooks is that you can download them instantly – no need to wait, or pay, for shipping.
Consult Your Network
Take your textbook needs to your social media network of friends and acquaintances. Ask for the specific versions of the books you need and ask if anyone has the books who is willing to part with them.
Once you've gotten the lower rate on all your textbook needs and make it through the semester, put the books you're never going to use again to work for you. Once again skip the kiosks on campus offering to buy them back and opt to sell them yourself on eBay, Amazon, or countless other venues where you can get a better return on your textbook investment.